Reduce your risk of falling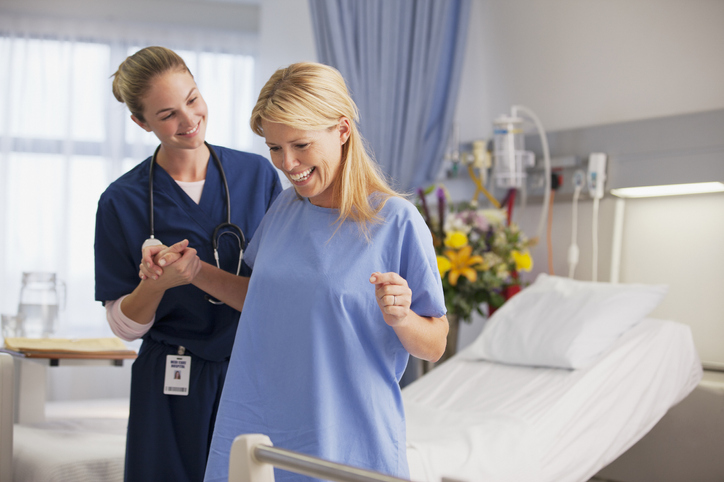 Falls are a major safety concern while you're in the hospital. A fall can result in injuries that require additional treatment and a prolonged hospital stay.
Being in the hospital increases your risk of falls
Regardless of your age or physical condition, just being in the hospital greatly increases your risk of falling. 
You are more likely to fall in the hospital due to:
Spending an abnormal amount of time in bed
Weakness from your condition
Unfamiliar surroundings in the hospital
Potential tripping hazards
Side effects from medications
It is extremely important that you are aware of your risk and are extra careful.
Fall prevention tips
To protect your safety:
Let your care team know if you have ever fallen at home or what you do at home to prevent falls
Use your call light and always ask for help whenever you need to get in or out of bed
Sit up slowly and sit on the side of the bed for a few minutes before standing
Wear shoes or slippers that do not slide and wear your glasses or hearing aid
Before you get up, look for cords, medical equipment or other items in your path so you are less likely to trip
Don't hold onto bedside tables or other furniture or equipment that could roll away
Keep your call light, phone, glasses, remote and other personal items within reach
Tell your care team if you are feeling dizzy, unusually tired or confused. These may be side effects from your medications
As encouraged by your care team, walk with your nurse, therapist or loved one and do exercises in bed to keep up your strength
Make sure all wheelchairs and walkers are locked when getting in and out of them.
Ask your doctor or nurse how you can stay safe and prevent falls in the hospital and at home.
KRMC precautions for reducing your risk
At Kingman Regional Medical Center (KRMC), we continually work to reduce falls. When you're first admitted to the hospital, your care team will assess your fall risk.
To evaluate your risk, we consider many factors, such as the side-effects of your medications, your blood pressure, physical limitations, etc.
If we determine you're at high risk for falling, we will:
Ask you to wear a yellow hospital gown, wrist band, and socks to alert our staff that you require assistance with standing and walking.   
Activate equipment located in your hospital bed, chair, and bathroom that will sound an alarm if you try to get up and walk without assistance. The alarm alerts staff to immediately go to your room to assist you.
Frequently check on you to assist you the restroom and to see if there's anything else you need. 
Please ask for help
We understand that it's hard to be in the hospital and dependent on others. None of us like asking for help when we think we can do something for ourselves. But, when it comes to your safety, it's very important to ask for assistance— especially, when getting in and out of bed.
Please use your call light and wait for us to assist you.
We're happy to help!