Assuring Quality and Protecting Your Safety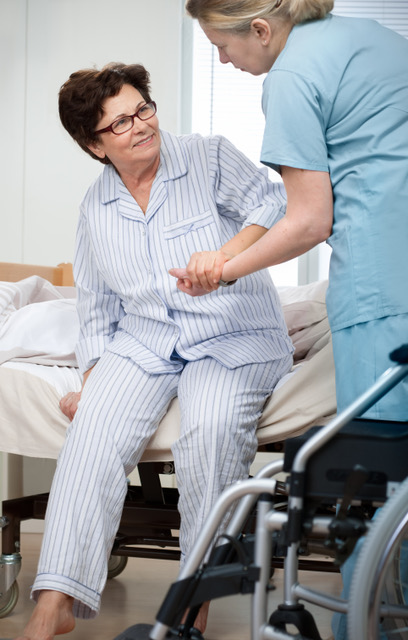 As an institution and as individual healthcare professionals, we are committed to protecting patient safety and providing quality care. It's at the heart of everything we do at Kingman Regional Medical Center (KRMC).
To us, quality means: doing the right thing at the right time, for the right person, and having the best possible result. Patient safety—preventing harm to patients—underlies all aspects of our healthcare culture.
We work to improve the quality of our services and the safety of our patients on a continuous basis. To evaluate our performance, we use industry-wide quality standards and measures.  These measures serve as vital tools to identify where improvements are needed and allow us to focus on the areas that require the most attention. 
Hospital Safety Grade
As of spring 2019, KRMC holds the highest hospital safety rating from the Leapfrog Safety Group. KRMC's "A" letter grade recognizes our efforts in protecting patients from harm and providing safer healthcare.
The Leapfrog safety grade has become a gold standard measure of patient safety. Developed under the guidance of a national panel of experts, the Leapfrog Group uses 28 measures of publicly available hospital safety data to assign grades to more than 2,600 U.S. acute care hospitals twice per year. 
KRMC continues to implement process improvements to prevent medical errors, falls, accidents and infections for the safety of patients in our care. 
Reducing Risk of Patient Falls
According to the Agency for Healthcare Research and Quality, hospitalized patients are at increased risk of suffering a fall-related injury. Falls are common in hospitals due to patient weakness, medication side-effects— and even because patients are in unfamiliar surroundings.
It is extremely important that hospitals take extra precautions to protect patients from falls. At Kingman Regional Medical Center (KRMC) we continually work to reduce fall risks. For example, we've implemented the following evidence-based practices:
1. Patient Education— We educate all patients and their family members about fall risks as soon as possible after the patient is admitted to KRMC. In the past year, we have begun using a "teach back" booklet called Preventing Falls that covers specific precautions for reducing fall risks.
While discussing precautions, we assure patients feel comfortable using their call light and know to ask for help when going to the restroom or when needing to walk in their room. We also encourage family members and visitors to stay with the patient, ask hospital staff for assistance, and support their loved one in not taking any risks that could harm their safety.
2. Risk Assessment— We perform a fall-risk assessment on every patient when they're first admitted to the hospital and then every 12 hours at nursing shift changes. We consider multiple factors (e.g., medication side-effects, blood pressure, physical limitations, etc.) to evaluate each individual's specific risks for falling.
If we determine a patient is at high-risk for falling, we take the following precautions:
The patient is asked to wear a yellow hospital gown, wrist band, and socks to alert our staff that the patient requires assistance with standing and walking.
We activate equipment located in the patient's bed, chair, and bathroom that will sound an alarm if the patient tries to get up and walk without assistance. This alerts staff to immediately go to the patient's room to provide assistance.
3. Hourly Patient Rounding – Nurses and other hospital staff frequently check on patients to assist them to the restroom and to see if there's anything else they need.
Decreasing Fall-Related Injuries at KRMC
Like all accredited hospitals, KRMC tracks and reports patient falls and any related injuries to the federal government, accreditation agencies, and other healthcare quality organizations.
With our efforts to reduce fall risks, KRMC fall-related injuries decreased by 65% during 2018.  In fact, KRMC is now ranked among the safest hospitals in the nation in the Press Ganey national database of Nursing Quality Indicators for low incidence of fall-related injuries.