Assuring Quality and Protecting Your Safety
As an institution and as individual healthcare professionals, we are committed to protecting patient safety and providing quality care. It's at the heart of everything we do at Kingman Regional Medical Center (KRMC).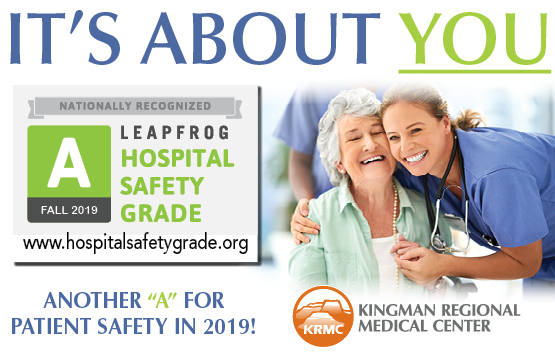 To us, quality means: doing the right thing at the right time, for the right person, and having the best possible result. Patient safety—preventing harm to patients—underlies all aspects of our healthcare culture.
We work to improve the quality of our services and the safety of our patients on a continuous basis. To evaluate our performance, we use industry-wide quality standards and measures.  These measures serve as vital tools to identify where improvements are needed and allow us to focus on the areas that require the most attention.
KRMC continues to implement process improvements to prevent medical errors, falls, accidents and infections for the safety of patients in our care.
An example of a KRMC safety initiative follows.
Reducing Sepsis
According to the Center for Disease Control, sepsis is a life-threatening medical emergency in which the body has an extreme response to an infection.  "Sepsis happens when an infection you already have triggers a chain reaction throughout your body.  Without timely treatment, sepsis can rapidly lead to tissue damage, organ failure, and death".1   While anyone with an infection can develop sepsis, there are certain people at higher risk:  the very old, the very young, people with weakened immune systems, as well as people with chronic medical conditions such as diabetes, cancer, lung disease and kidney disease.
Sepsis is one of the leading causes of death in US hospitals, the most costly condition to treat, and a leading cause for readmission.  According to the Sepsis Alliance, "until a cure for sepsis is found, early detection and treatment is essential for survival and limiting disability for survivors."2   Delayed treatment is associated with high death rates, significant poor health, and extreme disability for survivors, as well as high medical costs.
Focusing on early recognition and timely management of patients with sepsis, Kingman Regional Medical Center (KRMC) committed to providing better care and achieving better outcomes in this patient population.
KRMC's approach to this improvement initiative includes:
Appointment of a dedicated "Sepsis Coordinator" who tracks and oversees the management of sepsis patients, particularly the adherence to a pathway of care (core measure compliance) that has been proven to decrease sepsis deaths.
Development of a Sepsis Committee – A multidisciplinary team of members across the facility which meet twice a month to discuss improvement efforts.  This committee is led by the Sepsis Coordinator, and is supported by our Chief Medical Officer and two physician champions, one specializing in emergency medicine and one specializing in care of the hospitalized patient.  Other members include residents, nurses, nurse leadership, a patient-family advocate, as well as representatives from education, information technology, lab and pharmacy.
Implementation of our Nursing Sepsis Screening throughout the hospital.  This screening is completed in the Emergency Department, upon admission to the hospital, once every shift, and with any change in patient condition.  By using the skills of nursing staff and technology put in place by our IT department, an alert is generated which notifies care-givers of early clinical symptoms suggestive of sepsis, hence facilitating timely delivery of appropriate care. 
Extensive education has been provided to the staff, providers and clinical leadership regarding sepsis.  Staff, patients and visitors are also educated regarding the importance of hand-hygiene to prevent infections from starting or spreading.
Since October 2018, KRMC has increased Sepsis core-measure compliance by nearly 20% from baseline and has seen a 13% decrease in sepsis deaths.
Commitment to continued progress
KRMC's staff – from nurses to housekeepers to senior managers – have been hard at work improving patient safety. We know this work is never finished, and we are dedicated to maintaining a focus on enhancing our practices for the best interests of our patients.
References
"What Is Sepsis?" Center for Disease Control and Prevention, Centers for Disease Control and   Prevention, 27 Aug. 2019, www.cdc.gov/sepsis/what-is-sepsis.html.
"What is Sepsis." Sepsis Alliance, www.sepsis.org/sepsis-basics/what-is-sepsis/