Assuring Quality and Protecting Your Safety
As an institution and as individual healthcare professionals, we are committed to protecting patient safety and providing quality care. It's at the heart of everything we do at Kingman Regional Medical Center (KRMC).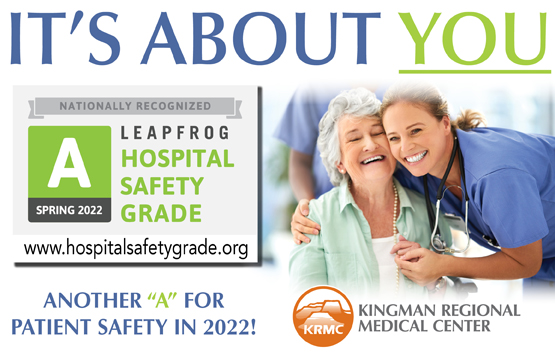 To us, quality means: doing the right thing at the right time, for the right person, and having the best possible result. Patient safety—preventing harm to patients—underlies all aspects of our healthcare culture.
We work to improve the quality of our services and the safety of our patients on a continuous basis. To evaluate our performance, we use industry-wide quality standards and measures.  These measures serve as vital tools to identify where improvements are needed and allow us to focus on the areas that require the most attention.
KRMC continues to implement process improvements to prevent medical errors, falls, accidents and infections for the safety of patients in our care.
An example of a KRMC safety initiative follows.
Bedside Medication Delivery
Kingman Regional Medical Center continuously looks for ways to improve the experience of our patients. In August 2019, KRMC piloted our Meds to Beds program. We found that this program expands access to vital medication for patients. Today, Meds to Beds is available to all hospitalized patients.
What is Meds to Beds?
Through the Meds to Beds program, KRMC's Pharmacy delivers the medications a patient will need after discharge straight to the patient's bedside. We know it can be difficult for some patients to pick up their prescriptions due to financial issues, lack of transportation, or simply not feeling well enough to go out. This program helps to reduce the burden on patients after they leave the hospital. 
A pharmacist or nurse will review a patient's prescribed medications at their bedside. This includes what the medication is for, how to take it, and potential side effects. A thorough understanding is important for the patient's safety, and we take time to ensure all their questions and concerns are addressed. 
Patient Impact
Our research has shown that providing a patient's necessary medications before discharge promotes recovery and reduces the likelihood of readmission to the hospital. KRMC Community Pharmacy fills and delivers approximately 1,000 prescriptions through the Meds to Beds program each month.
Commitment to continued progress
KRMC's staff – from nurses to housekeepers to senior managers – have been hard at work improving patient safety. We know this work is never finished, and we are dedicated to maintaining a focus on enhancing our practices for the best interests of our patients.
Environment of care/life safety
The Environment of Care (EOC) is managed through seven Subject Matter Experts in Infection Prevention, Hazardous Material, Life Safety, Medical Equipment, Security, Utilities, and Emergency Management.  The goal of the EOC is to provide a safe environment for patients, visitors, and staff. 
Providing a safe environment expresses a level of compassion and attention for patient wellbeing which is essential to performing high quality patient care.  The continued focus on the environment of safety directs us in our quest for continued improvements aligning with a commitment to community health.  Initially, the EOC assessments fell below our safety goals, averaging a score of just 70 percent. Currently, through optimizing EOC/Life Safety processes we have increased our average compliance assessment score to 96 percent. These accomplishments come through identifying risks, assessing the facility environment of care for cleanliness, infection prevention practices, structural integrity, equipment, maintenance, and aspects of security and privacy.
In 2021 the Environment of Care team conducted 24 assessments in the organization and Life Safety conducted 208 miscellaneous assessments comprising of crash carts, portable oxygen, fire and life safety, eyewash stations, exit signs, sample medication, grounds review for cleanliness and safety, and more.
Through the organization's continual improvement program, the EOC/Life Safety assessments will complete our goals of achieving 100 percent.