Tips on how to support your loved one in the hospital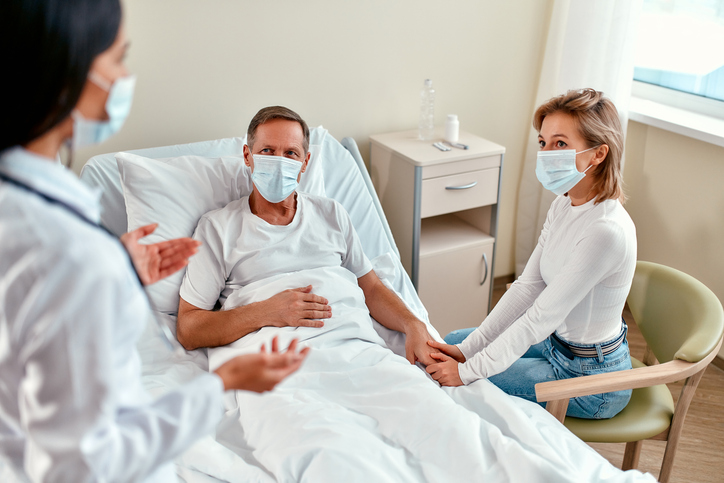 We encourage patients at KRMC to choose a trusted friend or family member to act as their support person and to let their nurse know who they pick.
If you are that person, being an active participant in your loved ones' care is an extremely important role. You can make a big difference in their hospital experience and help them feel more comfortable and secure.
We've listed some suggestions on how you can support your loved one during their hospitalization.
Ask Questions
Find out all you can about your loved one's condition and treatments. Ask their nurse or doctor to explain test results, medications, dietary restrictions, and other information about their care. 
If hospital staff use terms you don't understand, ask them to explain until you are satisfied that you understand. You could say something like, "I'm not sure what that means. Can you explain it to me?"
Also, ask how you can get involved in your loved one's care. For example, you could possibly help with grooming, eating, or helping them get safely in and out of bed. 
Take Notes
Keep a small notebook and pen with you and write down your questions as you think of them. This will help you remember when the nurse, physician or other health-care provider comes in the room. Be sure to write down the answers too.
You may also want to write down the names of attending doctors, nurses, and other hospital staff; or otherwise, ask for their business cards.
Write down other important information, such as the tests, procedures, and treatments given to your loved one. Note the date and time of your entries and use it as a reference when asking questions.
Be Observant
Look out for your loved one's welfare. For example:
Watch for changes in your loved one's condition. Immediately notify the nurse if they seem to be getting worse.
Remind hospital staff and visitors to wash their hands when they come into the room.
Verify the identity of anyone who comes to administer medications, tests, or procedures. Also ask about what they are doing, such as "what is the medication for?" or "why is this test needed?
Make sure staff check the patient's wrist band and ask for their date of birth before delivering any medication, test, or treatment.  
Report concerns
If you have any concern about the care of your loved one, immediately speak with their nurse or doctor. If your concern is not resolved to your satisfaction, ask to speak to the nurse manager or supervisor.
You can also contact KRMC's Patient Relations Representative at: 928-263-3654.  The patient representative serves as a neutral party and is here to ensure that patients and family members are happy with their care and get the attention and service they deserve.