Saving Lives by Detecting Lung Cancer Early
The Kingman Regional Medical Center (KRMC) Lung Nodule Clinic provides care to people who are at high risk of lung cancer. The goal of our clinic is to detect lung cancer as early as possible. If found and treated early, lung cancer can often be cured.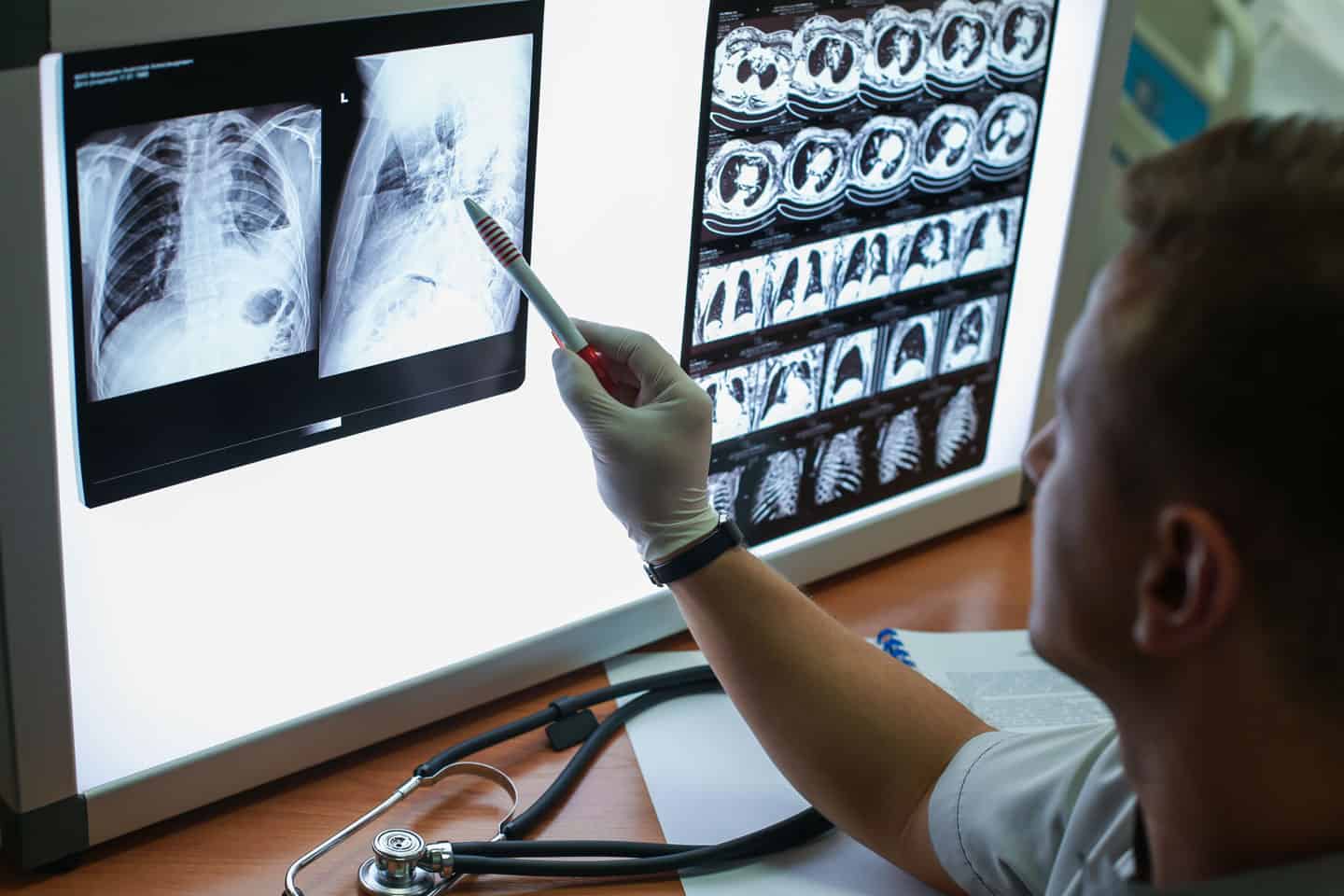 With our Lung Nodule Clinic, we hope to save lives from lung cancer by providing seamless clinical care, access to the latest therapies, and patient-centered support services. Our multi-disciplinary medical team includes board-certified pulmonologists, radiologists, thoracic surgeons, and other medical experts. Working together, these doctors save valuable time in the lung cancer diagnostic and treatment process.
Serving People at High Risk of Lung Cancer
Most medical insurance plans (including Medicare and AHCCCS) cover KRMC Lung Nodule Clinic services for people at high-risk of lung cancer:
Have a 20 pack-year or more smoking history, and
Smoke now or have quit within the past 15 years, and
Are between 50 and 80 years old.
*A pack-year is smoking an average of one pack of cigarettes per day for one year. For example, a person could have a 20 pack-year history by smoking one pack a day for 20 years or two packs a day for 10 years
Services:
Lung Cancer Screening – If you meet the risk criteria listed above, you may be a candidate for lung cancer screening, which can detect lung cancer early, when treatment is most effective. The test involves a painless low-dose computed tomography scan (called low-dose CT) at the KRMC Imaging Center. Low-dose CT produces a detailed three-dimensional picture of your lungs and airways. This innovative technology administers up to 80% less radiation than conventional CT scans and can show early-stage lung cancer before symptoms occur.
Lung Nodule Monitoring – A lung nodule is a "spot" on your lungs smaller than 3 centimeters in diameter (larger "spots" are called lung masses). Lung nodules may be found with lung cancer screening or they are sometimes detected accidentally when undergoing medical imaging for other health conditions. Some lung nodules are not cancerous, while others may be an early sign of lung cancer. At the KRMC Lung Nodule Clinic, we thoroughly evaluate and closely monitor lung nodules for any changes in appearance or size, which could be an indicator of cancer.
Lung Biopsy – If you have a lung mass (tumor larger than 3 cm) or changing lung nodule, doctors may need to do a biopsy to see if it contains cancer cells. A biopsy involves taking a small sample of tissue from the tumor. Depending on your individual condition, we use the most minimally-invasive technique possible for your lung biopsy. One state-of-the-art technique at KRMC is electromagnetic navigational bronchoscopy (ENB). This minimally-invasive procedure allows doctors to navigate a catheter (small tube) through the lungs to reach a targeted lesion without an invasive surgical procedure. Once a sample of tissue is extracted, it is examined under a microscope by a pathologist to determine if the tissue is benign(meaning no cancer cells are detected in the sample) or malignant (meaning that cancer cells are present in the tissue sample). If a lung nodule or mass proves to be cancer, our clinic coordinates your care with surgeons, medical oncologists, radiation oncologists, and other experts to formulate an individualized cancer treatment plan.
Smoking Cessation – The KRMC Lung Nodule Clinic provides support for our patients who want to quit smoking. Our program was developed at the Mayo Clinic's Nicotine Dependence Center (NDC) in Rochester, Minnesota and involves newer medications and techniques that are very effective in helping patients overcome nicotine dependence.