Experienced and Skilled Surgical Care
With skilled staff and advanced technologies, Kingman Regional Medical Center (KRMC) is a leading provider of surgical services in the region. Our general surgeons are highly accomplished in the surgical treatment of almost any organ in the body, including the head and neck, breast, skin and soft tissues, abdomen, extremities, and gastrointestinal tract.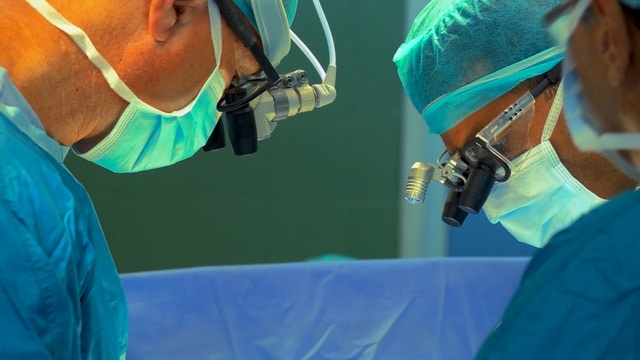 Our experienced surgical staff is skilled in modern surgical procedures. For example, whenever possible, we use newer minimally-invasive surgical techniques rather than conventional surgical methods. These procedures involve smaller incisions with relatively minimal tissue damage, which result in fewer complications and allow for quicker post-operative recovery.
At KRMC, we employ national surgical safety standards, which include stringent protocols for providing you a safe, comfortable, and successful patient experience. In addition to your surgeon, our skilled surgical team includes board-certified anesthesiologists, surgical nurses and technicians, and operating room and recovery specialists. Our surgeons and staff work closely with your regular doctor to assure you receive comprehensive care before, during, and after your surgery.
Surgical Procedures:
Some of the most common operations performed by general surgeons at KRMC include:
Amputation – Acquired condition that results in the loss of a limb
Appendectomy – Surgical removal of the appendix to treat acute appendicitis
Biopsy – Surgical removal of a cyst, tumor, or other suspicious mass in the body, which is later examined in a laboratory to identify if it contains cancer cells or indicates other chronic disease
Cholecystectomy – Surgical removal of the gallbladder
Colectomy or Partial Colectomy – Removal of all or part of the colon as a treatment for colon cancer or diverticulitis
Colonoscopy – Procedure for examining the inner lining of the colon as a screening test for colon cancer or to find colon polyps, and areas of inflammation or bleeding
Esophagogastroduodenoscopy – Procedure for examining the inner lining of the esophagus and stomach in order to find ulcers, gastric polyps, esophageal strictures, or to monitor conditions such as GERD and Barrett's esophagus
Hemodialysis Catheter Placement – Placement of catheters for kidney dialysis access
Hemorrhoidectomy – Surgical removal of hemorrhoids, which are distended veins in the lower rectum or anus
Hernia Repair – Surgical repair of multiple types of hernias, including those in the groin (inguinal), around the belly button (umbilical), and those in the abdomen (ventral or incisional)
Laparoscopy – Procedure to examine organs of the abdominal cavity
Lumpectomy – Surgical removal of a cancerous tumor from the breast while preserving the breast
Mastectomy or Partial Mastectomy – Surgical removal of all or part of the breast as a treatment for advanced or repeated breast cancer
Port Placement – Placement of tunneled, subcutaneous ports for administration of chemotherapy or access for frequent blood draws