Helping People Recover from Disabling Conditions
When you or a loved one is recovering from major surgery or a serious injury or illness, you may need specialized inpatient (hospitalized) therapy to help you return to normal daily activities.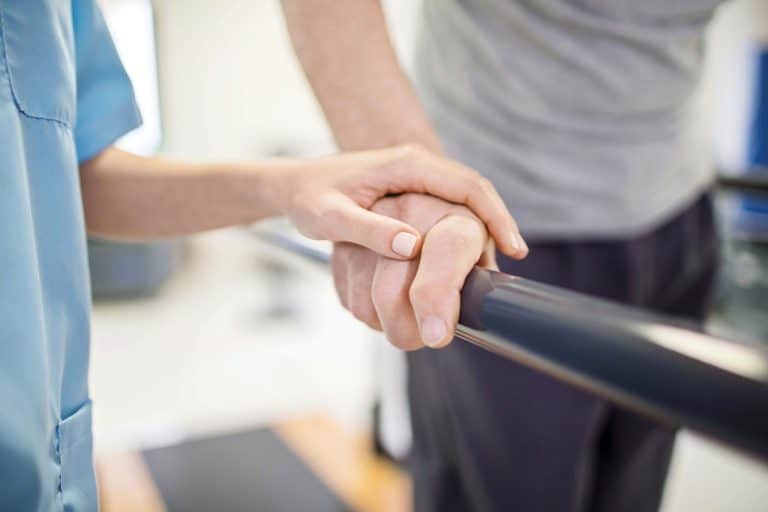 At Kingman Regional Medical Center's (KRMC's) Acute Rehabilitation Unit, our team of rehabilitation experts is committed to helping you restore your independence as quickly as possible.
Our 18-bed acute rehabilitation facility is located at KRMC's beautiful Hualapai Mountain Campus. It features private rooms, a full therapy gym, dining room, and patient lounge. It also includes a fully-furnished "transitional apartment" where patients learn and practice self-help skills before returning home.
Conditions Treated:
Amputation
Brain injury
Fractured hip or other complex bone fractures
Joint replacement surgery, including knee and hip replacements
Major trauma resulting from accidents
Multiple sclerosis
Neurological conditions
Parkinson's Disease
Spinal cord injury
Stroke
Services:
KRMC's acute rehabilitation program can help you develop new skills and re-learn previous ones to improve your quality of life. You will receive a personal evaluation and a comprehensive treatment plan tailored to your individual condition and needs.
Our treatment goals focus on measurable improvements and the return of vital functions such as balance, mobility, cognition, speech, and memory. You will build physical strength at our on-site gym and practice life skills in a variety of home-like and outside settings.
Other important components of our care include educating you and your family members on how to continue your care and rehabilitation at home.
Our Specific Capabilities Include:
Around-the-clock nursing care
Daily physician visits with 24/7 on-call physician coverage
Dietary counseling
Social services