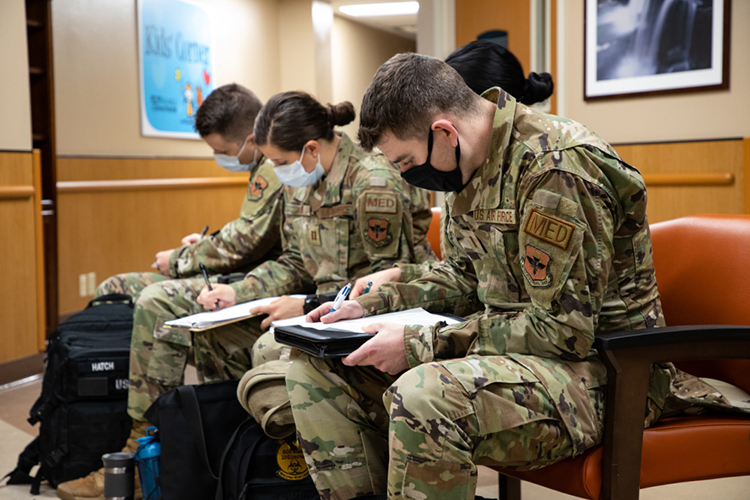 March 2, 2021
On Sunday, February 28th, U.S. Air Force medical personnel arrived in Kingman to provide staffing support to Kingman Regional Medical Center (KRMC). This support comes at the request of the Federal Emergency Management Agency (FEMA) and as part of the whole-of-government COVID-19 response operations. 
Pursuant to the President's National Emergency Declaration in March of 2020, the Department of Defense has deployed their Military Health System teams to assist in the public health response to COVID-19.  This has enabled hospitals across the nation to request assistance from these teams for clinical support. 
In early January of this year, KRMC made a request through the FEMA for additional nurses and respiratory therapists to provide relief for local staff.
The hospital recently learned that U.S. Army North, the Joint Force Land Component Command of U.S Northern Command, will oversee the military response at the hospital in support of federal efforts and the state.
A medical team of approximately 30 Air Force medical providers arrived at KRMC today. The Air Force medical providers consist of medical/surgical registered nurses, critical care (ICU) registered nurses, and respiratory therapists. 
"Our forces continue to support hospitals treating COVID-19 patients at the request of FEMA," said Lt. Gen. Laura J. Richardson, ARNORTH and JFLCC commander. "This is a multi-service undertaking and just one facet of the whole-of-government response to the COVID-19 pandemic." 
According to Will McConnell, KRMC CEO, "We are very grateful to FEMA, and the Department of Defense for providing medical personnel to support our hospital's COVID-19 response. With the military team on hand, our current staff who have been working tirelessly since this time last year can get some much-needed relief." 
With the additional personnel on-hand, KRMC staff who were redeployed to COVID units will now return to their regular units.
"We would also like to thank our partners at Mohave County Public Health and the Arizona Department of Health Services for assisting us through the FEMA request process," said McConnell.
U.S. Army photo by Spc. Michael Ybarra, 5th Mobile Public Affairs Detachment