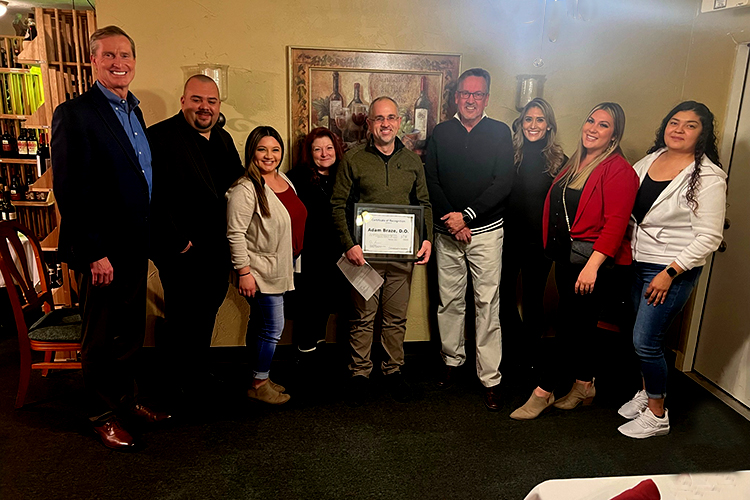 April 13, 2023
Kingman Regional Medical Center thoracic surgeon Adam Braze, DO, recently completed his 100th Concomitant Transoral Incisionless Fundoplication (cTIF) procedure, an innovative, minimally invasive surgical option to treat gastroesophageal reflux disease—or GERD.
GERD is a medical condition where the stomach acid leaks into the esophagus, the tube connecting the mouth and stomach, causing irritation to its lining. This occurs when the tissue valve at the end of esophagus does not close correctly after food enters the stomach. Over time, the repeated exposure of stomach acid in the esophagus can lead to the development of GERD with symptoms such heartburn, feeling of food caught in the throat, vomiting, difficulty swallowing and sore throat/hoarseness.
Affecting an estimated 20 percent of the U.S. population, GERD is a common condition. Certain factors increase a person's risk of developing GERD, including age (over 40), obesity, smoking, a sedentary lifestyle, moderate to high alcohol consumption, or being pregnant.
The cTIF procedure provides an alternative approach to traditional surgery in the treatment of GERD. In this procedure, the doctor inserts a device through the mouth, down the esophagus, and into the stomach to repair the gastroesophageal valve and stop reflux. It is important to treat chronic reflux because it can develop into a condition called Barrett's esophagus, which can increase risk of esophageal cancer.
"The cTIF procedure offers patients a viable, long-lasting solution to a potentially debilitating condition," said Braze.  "The procedure is minimally invasive, does not require an incision and can result in a faster recovery and return to normal activities."
Patients who undergo this procedure commonly report reduced symptoms and better quality of life. "Many patients can come off their daily PPI medications and resume enjoying foods, beverages and activities they had to avoid in the past due to reflux," said Braze.
For more information about the cTIF procedure, contact Kingman Thoracic Associates at (928) 681-8520, or visit www.azkrmc.com.