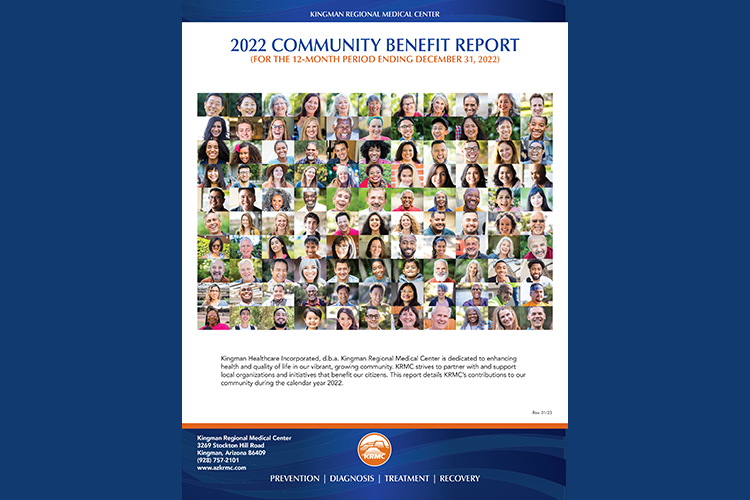 February 2, 2023
Kingman Regional Medical Center recently published its annual community benefit report for 2022. The report shows KRMC's unreimbursed expenses for patient care.
It also includes the health system's contributions to programs and services that promote community health and wellbeing.
As the only nonprofit hospital in Mohave County, KRMC reports publicly on its community benefit activities. Most of KRMC's community benefit expenditures last year involved absorbing losses from Medicare ($20.3 million) and providing financial assistance for patients in need ($5.09 million). 
In 2022, KRMC provided an additional $230,735 in non-billed health services to the community. The hospital also donated another $225,570 to various local organizations and programs that enhance community health and quality of life.
According to Roger Forgey, KRMC's Interim CEO, "As a local community-owned healthcare system, KRMC is dedicated to delivering a wide range of benefits, activities, services, and programs to meet the varied health needs of those we serve."
"In fact, this is at the heart of our stated mission, which is to inspire and partner with our community to achieve optimal health— mind, body, and spirit," he added.
In addition to KRMC's community benefit expenditures, the healthcare system is a major contributor to the local economy. It is the largest private employer in Mohave County with a current payroll of over $151.8 million. KRMC is also a large consumer of local goods and services, spending over $10 million per year with community businesses.
To view KRMC's full community benefit report, visit www.azkrmc.com.