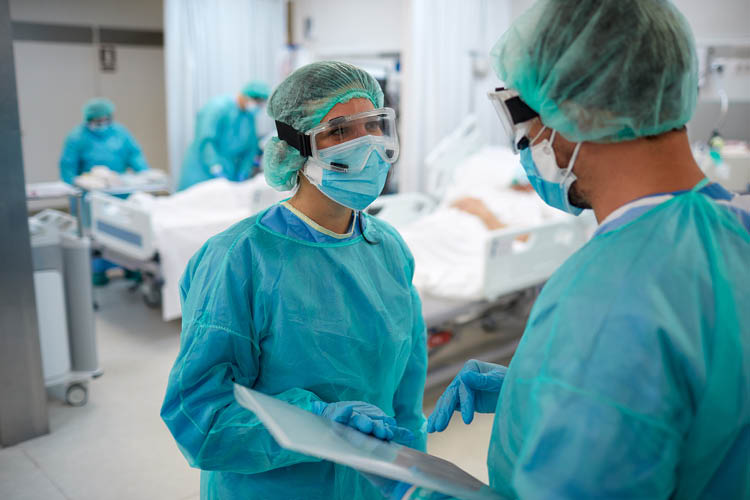 August 25, 2021
As hospitalizations continue to rise, Kingman Regional Medical Center (KRMC) will postpone some non-urgent surgical procedures by a few weeks, effective Monday, August 30th. This is a temporary measure intended to shift staff and resources to care for COVID-19 patients.
 
Throughout the pandemic, KRMC has prioritized providing healthcare to our community with minimal interruption to our patients. We have strategically arranged services and redeployed staff within the organization so we could keep all service lines open.
 
As COVID-19 cases climb in the region, hospitals are reporting increased admissions. At KRMC, the positivity rate of patients tested for COVID has steadily increased throughout the summer. In June of 2021, KRMC's 30-day positivity rate averaged at 3.15%. KRMC's current positivity rate is 14.73%.
 
The hospital's number of inpatients with COVID-19 continues to rise as well. As of today's release, 38 patients with COVID-19 are hospitalized at KRMC.
 
By postponing non-urgent procedures, KRMC can redeploy more staff and resources to care for hospitalized COVID-19 patients, who often have extended hospital stays.
 
While urgent and emergent surgeries will still occur, other procedures will be evaluated at the surgeon's discretion for possible deferment when it is safe to do so. KRMC staff will notify all patients who must be rescheduled.
 
"While we temporarily pause select procedures, we assure the community that your health remains our priority," said Leslie Martin, Assistant Chief Nursing Officer. "We encourage patients not to delay in getting the care they need for any condition."
 
KRMC extends sincere thanks to our community for their patience and understanding throughout this crisis.