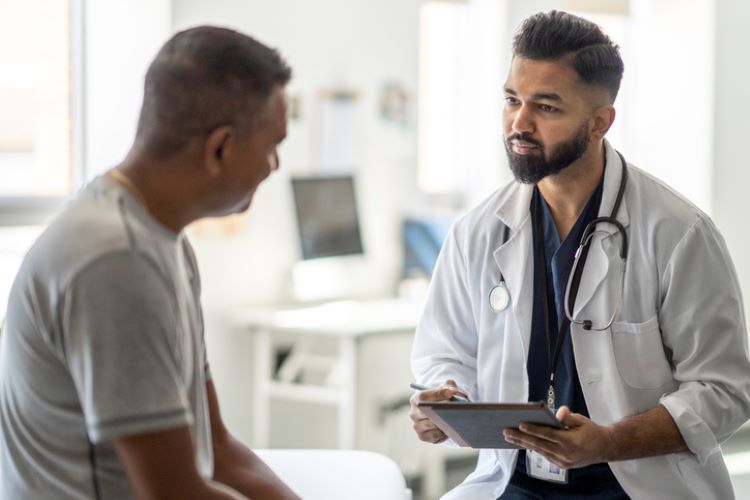 April 4, 2023
Kingman Regional Medical Center's imaging department recently scanned its first patient with a PSMA PET scan. KRMC is the first health system in Mohave County to offer this advanced imaging test.
With a PET—or positron emission tomography—scan, a small amount of radioactive glucose is injected into the patient's vein before they enter the scanner. The PSMA exam uses a special radioactive tracer to detect prostate specific membrane antigen, which is a protein on the surface of prostate cancer cells.  
For patients who have been previously diagnosed with prostate cancer, a PSMA scan will determine whether the cancer cells are confined to the prostate or have spread (metastasized) to the bones or other organs. Its high level of sensitivity allows doctors to accurately spot cancerous lesions, so they can create targeted treatment plans.  
"The PSMA scan is great for our patients because it can detect prostate cancer at early stages," said Bev Behymer, lead nuclear medicine PET technologist with KRMC. Other scans may not detect metastasized prostate cancer until it becomes more advanced, making treatment more difficult. "The sooner we can determine the exact location of the cancer, the sooner we can get that patient started with a treatment that's customized specifically for them." 
"This is just one example of the type of interdisciplinary care that helped our cancer program achieve accreditation [through the American College of Surgeons Commission on Cancer]," said Meagan Flummer, director of the WL Nugent Cancer Center. "Our radiologists and imaging professionals continue to collaborate with the cancer center to offer the most advanced technologies to our patients."