Kingman represents classic small town America, with very nice people and community-oriented activities that bring us together as neighbors and friends.
Our unique culture and traditions are rooted in cattle ranching, railroading, and mining— along with the allure of the open road on famous Route 66, which runs through town.
Importantly, Kingman is a place where you can get involved and make a difference. Our strongest asset is the community spirit of our residents. Many local individuals, clubs, churches, and other community groups have deep commitment to making our town a place to learn, grow, and thrive. Their energy and dedication are powerful factors for enhancing health and quality-of-life in our community.

Cultural events and activities
Our close-knit community sponsors many events and activities throughout the year, such as:
Art shows
Outdoor concerts
Block parties
Seasonal festivals
Theater performances
Rodeo
Classic car shows
Arts & crafts fairs
Gem and mineral shows
Farmers market
Live entertainment
Trade shows
Wine tastings and winery tours
Native American arts
Historic landmarks
Museums
Community choir
Community orchestra
Sports competitions, tournaments & races

Weather
With an elevation of 3300-3500 ft. above sea level, Kingman has much milder summers and cooler winters than many other parts of Arizona.
Annual average high temperature - 74.3°F
Annual average low temperature - 48.5°F
Average annual rainfall - 10.04 inches
Average high temperature in the hottest month (July) - 96°F
Average low temperature in the hottest month (July) - 69°F
Average high temperature in coldest month (January) - 54°F
Average low temperature in coldest month (January) - 31°F

Education
Kingman offers many educational opportunities from K-12 to higher education.
Elementary schools – 8 public and 1 private
Middle School – 5 public and 1 private
High School – 3 public
Community College – Mohave Community College
Vocational Education – Mohave Community College
University Extension Courses – Northern Arizona University
Medical residency and internships – Kingman Regional Medical Center

Delight in our scenic beauty & recreational opportunities
Kingman is located where the Mohave Desert transitions to the Sonoran Desert to our south. With the magnificent pine-covered Hualapai Mountains to our east and multi-hued stone formations to our west, our stunning vistas change almost hourly with the light.
Our skies are clear, clean, and vast. Spectacular sunrises and sunsets illuminate our beautiful high-desert landscape with dazzling color. At night, starlight is unimpeded by light pollution, revealing the breathtaking enormity of the cosmos.
Our climate allows for year-round outdoor activity. Trails for hiking and biking are accessible within Kingman's city limits. Additionally, a wide range of recreational opportunities are easily available within our immediate area and the larger region.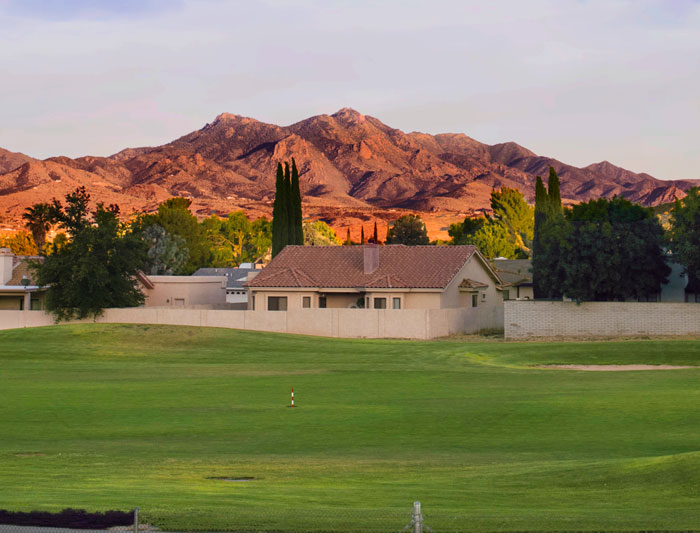 Situated in the Hualapai Valley between the Cerbat and Hualapai mountain ranges, historic Kingman has it all— scenic views, an abundance of outdoor activities, a family- friendly atmosphere, and low cost-of-living.
Kingman was founded in 1882, when Arizona was still a territory. It is the county seat of Mohave County, which in terms of land area, is the fifth largest county in the United States, covering 13,470 square miles (about the size of New Jersey). Mohave County shares borders with three states— California, Nevada, and Utah.
Large-city amenities, such as professional sporting events, shopping, and entertainment are accessible within a short drive to Las Vegas (100 miles) or Phoenix (165 miles).
The Laughlin/Bullhead City airport is 30 minutes away, which provides commercial flights to and from Sky Harbor International Airport in Phoenix. Additionally, McCarran International Airport in Las Vegas is less than two hours away.
Parks and recreation
Our area boasts many beautiful parks that offer a wide variety of family activities, including:
Skateboarding
Frisbee golf
BMX track
Swimming
Tennis
Pickle Ball
Baseball/Softball
Soccer
Jogging
Dog Park
ATV Trails
Hiking
There are many places to hike in Kingman and the surrounding area. Popular local hiking spots include:
Hualapai Mountains
Camp Beale Loop
Golf
Kingman offers superb championship golf courses for individual and tournament play at:
Cerbat Cliffs public golf course
Valle Vista Country Club & Golf Course

Water recreation
Kingman residents and tourists have easy access to boating, water skiing, fishing, swimming and just relaxing on the many waterways in our area, including:
Lake Mohave . . . . . . . . . 30 minutes
Colorado River. . . . . . . . 45 minutes
Lake Mead. . . . . . . . . . 1 hour
Lake Havasu. . . . . . . . . 1 hour

Experience Awe
Within hours, you can drive from Kingman to many world-renowned travel destinations.
Lake Havasu London Bridge
1 hr, 3 min
Grand Canyon Skywalk
1 hr, 15 min
Havasupai Trailhead
2 hrs
Valley of Fire
2 hrs, 20 min
Grand Canyon National Park
2 hrs, 45 min
Meteor Crater
2 hrs, 47 min
Petrified Forest
3 hrs, 43 min
Zion National Park
4 hrs, 11 min
Brian Head Ski Resort
4 hrs, 37 min
Monument Valley
4 hrs, 55 min
Universal Studios
4 hrs, 56 min
Bryce Canyon
5 hrs, 28 min
Puerto Peñasco, Mexico
5 hrs, 53 min