Helping You Breathe Easier
When your doctor refers you for a test or treatment through KRMC's Respiratory Services department, you can be assured you will receive expert care by skilled respiratory therapists who are dedicated to your individual needs. We take pride in our service and attention to detail while attending to your comfort and convenience.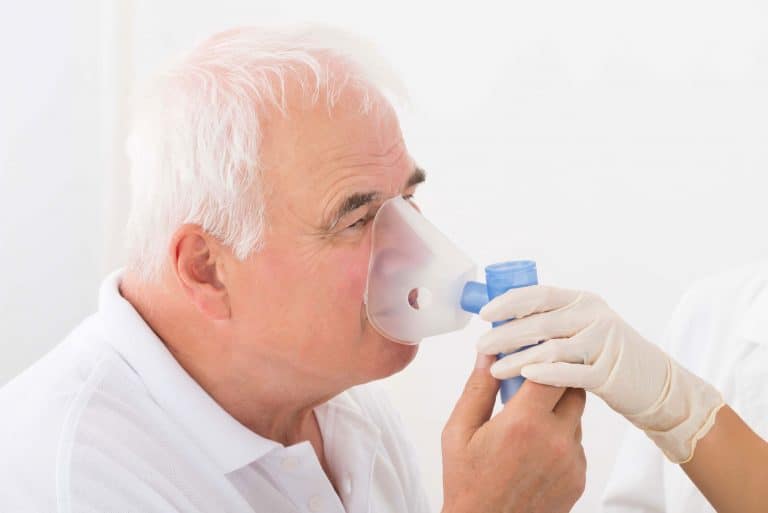 Our team includes licensed respiratory therapists with specialized training and experience to effectively assess, educate, and treat patients of all ages who suffer with breathing problems or cardiopulmonary disorders.
Our team works closely with your primary care doctor, pulmonologist, and other physicians, nurses, and speech therapists to provide you personalized care to meet your individual needs.
KRMC's respiratory services are covered by most medical insurances, including Medicare and Medicaid (AHCCCS) upon referral from your healthcare provider.
Conditions Treated
KRMC's Respiratory Services department provides testing and treatments for a variety of breathing-related conditions, including:
Acute Bronchitis
Acute Respiratory Distress Syndrome
Asbestosis exposure
Asthma
Bronchiectasis
Bronchiolitis
Bronchiolitis Obliterans Organizing Pneumonia
Bronchopulmonary Dyplasia
Complications from ALS
COPD – Emphysema and/or Chronic Bronchitis
Cystic Fibrosis
Hypersensitivity Pneumonitis
Lung Cancer
Mesothelioma
Pneumonia
Pulmonary Fibrosis
Valley Fever (Coccidiodomycosis)
Respiratory Testing
KRMC's Respiratory Services department offers advanced technology and skilled expertise to test for most lung or respiratory conditions in adults and children.
Pulmonary Function Testing (PFT)
A PFT is an advanced test used to find out how well your lungs are working. It is the only way to diagnose COPD and Asthma and to differentiate between the two. A PFT is also beneficial for patients prior to surgery and to diagnose various other respiratory illnesses. During a PFT, you will be asked to breathe through a mouthpiece while you are coached to perform several different tests. The results are analyzed by a pulmonologist (doctor who specializes in lung diseases).
Arterial Blood Gas Testing
This test measures the level of oxygen, carbon dioxide, and pH levels in your blood. These gas levels are indicators of lung function. The test involves taking a blood sample from an artery, often near your wrist.
Other Testing Services
KRMC's Respiratory Services department also provides diagnostic testing services to assist in identifying other medical conditions.
Electrocardiogram (EKG)
An EKG (or ECG) is a painless test for measuring your heart's electrical activity. It is performed by placing stickers (called electrodes) on your skin, which provide information about your heart's rhythm. The results of the test are interpreted by a cardiologist (heart specialist).
Holter Monitor
A Holter Monitor is a type of EKG that measures your heart's electrical activity over time. It involves placing electrodes on your chest, which are connected to a cell phone sized device that records your heart's rhythm for up to 48 hours. The monitor is then removed and the data is interpreted by a cardiologist.
Electroencephalogram (EEG)
An EEG is a test that records the electrical activity of the brain. It is used to diagnose and monitor neurological conditions and reveal abnormal brain wave patterns, seizures, epilepsy, and Alzheimer's disease. This painless test by placing electrodes on your head and chest. At KRMC, we transmit information from the test to Mayo Clinic in Scottsdale, Arizona where a neurologist (brain specialist) interprets the results.
Treatments
Using state-of-the-art technologies, KRMC respiratory therapists provide advanced therapies and treatments for breathing disorders, which include:
AVAPS
BIPAP
CPAP
High-flow oxygen
Lung volume expansion therapy
Metaneb therapy
Nebulizer and metered dose inhaler breathing treatments
Oscillating positive expiratory pressure device (OPEP)
TheraVest chest percussion
Ventilation (life support)
Pulmonary Rehabilitation Program
Our pulmonary rehabilitation program involves education, training, and exercise to help patients with COPD or other lung disease breathe more easily. Under the direction of licensed respiratory therapists, you will learn how to effectively manage your condition for improving your quality of life.