Serving Our Patients and Employees
For the convenience of our patients and employees, Kingman Regional Medical Center (KRMC) offers a fully staffed, on-site pharmacy in the Medical Professional Center. In addition to prescription medications, a wide range of over-the-counter medications and medical supplies are available.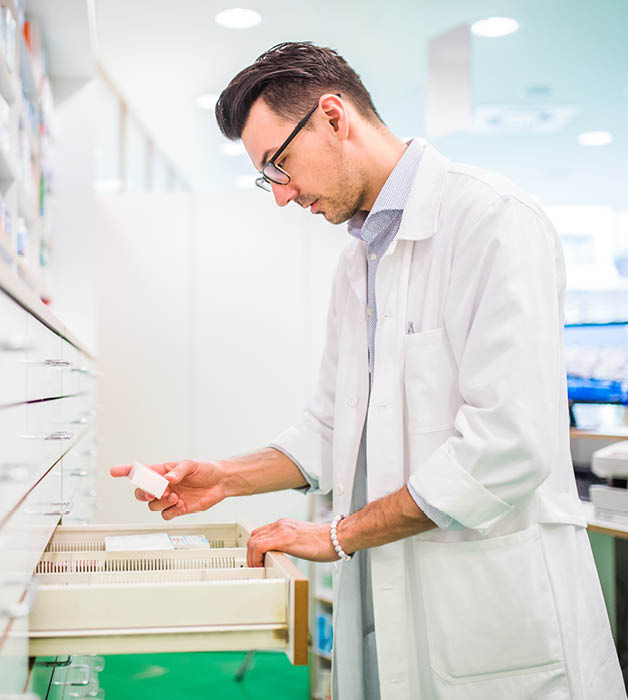 The KRMC Community Pharmacy provides the following services to our customers:
Assistance with over-the-counter medications and dietary supplements

Auto-fill to manage prescription refills, including automated voice refill and messaging service

Bedside delivery service for hospitalized patients prior to discharge

Coordination with your doctor and other providers to ensure appropriate medications or to resolve medication issues

Drive-thru service for convenient pick-ups

Knowledgeable pharmacy staff on-hand to provide answers to medication and insurance questions – with a private consultation room available

Medication review using advanced computerized programs to manage drug interactions

Reminder calls to let you know when your prescriptions are ready

Transfer services to move your prescriptions from a different pharmacy
Does my insurance cover this service?
Prescriptions at the KRMC Community Pharmacy are covered by most insurance plans, including Medicare, Medicaid (AHCCCS), and the Veterans Administration, with similar copays to other retail pharmacies. Copays are due when prescription orders are placed. Payments can be made with cash, check, or any major credit card.