Assuring End-of-Life Comfort and Peace
Kingman Regional Medical Center (KRMC) Hospice provides care for people with limited life expectancy. Unlike other medical services that focus on a cure, hospice focuses on providing end-of-life comfort and dignity.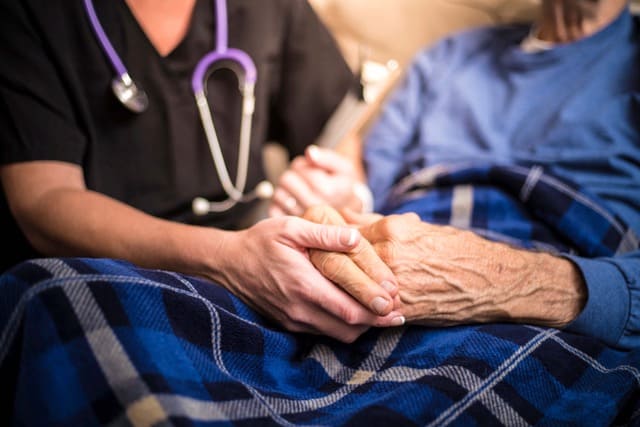 Established in 2001, KRMC Hospice is a state-licensed, nonprofit, Medicare-certified hospice serving the residents of Kingman, Golden Valley, and surrounding areas in northwest Arizona. Our team includes skilled doctors and nurses certified in hospice and palliative care along with specially-trained social workers, chaplains, bereavement counselors, and volunteers who are on call 24-hours-a-day and capable of immediately responding to patient and family needs.
Our highly-experienced and compassionate care providers work closely with the patient, family, and the patient's doctor(s) to tailor a care plan for meeting the patient's specific needs and wishes. Our goal is to provide optimum comfort and support in honor of the patient's dignity and expressed desires.
Services
Depending on patient and family needs, KRMC Hospice provides a full range of services to assure end-of-life comfort and peace. Whenever possible, patients receive hospice care in the familiar surroundings of their own home.
Nursing Care— Registered nurses certified in palliative care visit the patient in their home as often as needed to manage pain and other symptoms. Additionally, nursing assistants provide personal care services such as bathing, hair and nail care, and bed linen changes. Our nurses also educate and guide patients and families through the illness, providing them with the information they need to understand and cope with their situation.
Social Services— Licensed social workers are available for supportive counseling and to assist with end-of-life planning, which can involve referrals for legal and financial assistance or to any other needed community resources.
Chaplain Services— Ordained ministers provide spiritual counseling and support to patients and their families. This non-denominational, interfaith support is available to anyone, regardless of their religious beliefs, for the purpose of comfort, not conversion.
Volunteer Services— Specially-trained volunteers provide support and companionship to hospice patients and families. Volunteers can also assist with light household chores, running errands, or a variety of other needs.
Rapid Crises Response— KRMC's hospice team is on call 24-hours-a-day (including weekends) and capable of immediately responding to patient and family needs.
Respite Care— Volunteers are available to stay with patients to allow caregivers an opportunity to get out of the house and refresh themselves from the daily difficulties of caring for their loved one. Additionally, respite care is available for longer periods at our inpatient facility, the Joan and Diana Hospice Home.
Bereavement Support— Counselors and chaplains provide family members and friends bereavement support following the death of their loved one. Additionally, our ongoing bereavement support groups provide a safe place to express thoughts and feelings, to learn from each other, and consider ways to cope with loss.
Joan & Diana Hospice Home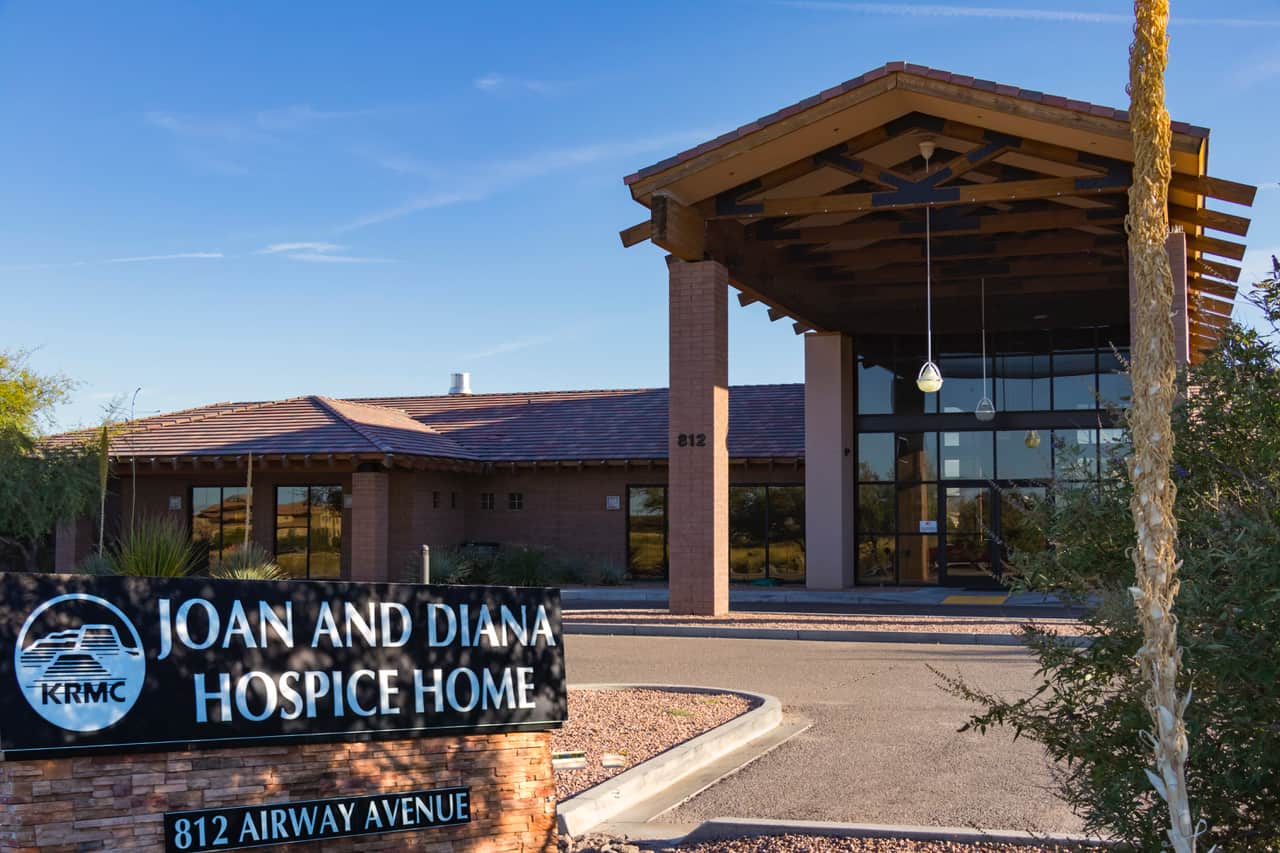 KRMC's Joan & Diana Hospice Home at 812 Airway Avenue in Kingman provides a beautiful home-like setting for hospice patients who need complex care beyond what can be provided in their home.
Our Hospice Home also provides respite care. With respite care, hospice patients stay at the home for a brief period to give their caregivers some time for rest and relaxation.
With around-the-clock medical professionals and support personnel, the 12-bed home provides a haven of dignity, care, and comfort.
Care You Can Count On.
Obtaining quality end-of-life care is immeasurably important. With a strong commitment to our community, KRMC continues to be a trusted hospice provider in the Kingman area. We invite you to learn more about our reputation, services, and commitment and encourage you to ask for our most recent feedback from patients and family members to compare our service ratings.
Please call 928-692-4680 for more information or to tour KRMC's Joan and Diana Hospice Home.

KRMC Hospice embraces America's veterans as a "We Honor Veterans" hospice partner. We provide specialized care for meeting the unique needs of veterans and work to increase access to hospice care for veterans living in our community.