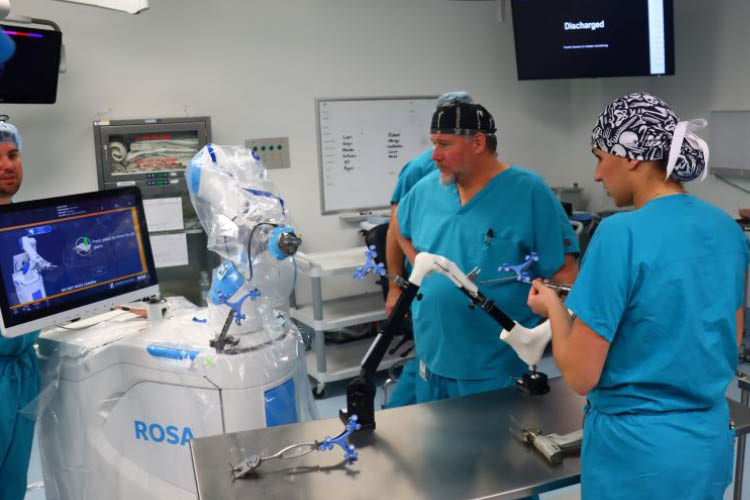 March 8, 2023
Kingman Regional Medical Center orthopedic surgeon Dr. Mark Davis recently performed the health system's first ROSA-assisted knee replacement surgery.
The Robotic Orthopedic Surgical Assistant— or ROSA— helps the surgeon to achieve the most precise alignment of the knee and foot while placing the implant.
According to its manufacturer, Zimmer Biomet, "ROSA Knee was designed by surgeons for surgeons as an accurate and efficient surgical assistant that also produces data." 
The ROSA features virtual simulation, live feedback, and dynamic patient data throughout the range of motion. The system also includes "anatomic implants in standard and narrow sizes developed to more closely match the shape and size of various patient ethnicities, genders and statures."
Dr. Davis and his team completed extensive training ahead of the procedure to ensure optimal use of the ROSA system.
"ROSA allows a surgeon to better serve patients through real-time digital feedback to facilitate more precise resections. This technology improves outcomes in the setting of knee replacement surgery," said Dr. Davis. "My team and I are very excited to be using this technology to better serve the community with state-of-the-art orthopedic care."
Photo: Dr. Davis and physician assistant Kaylee Herrero explore the ROSA's features during a mock procedure.