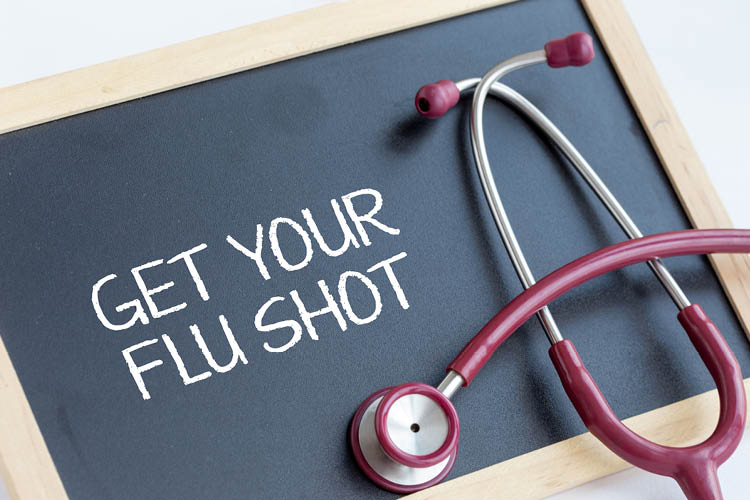 October 26, 2020
With the novel coronavirus dominating this year's health-related news, it's easy to forget about other health issues. But like it or not, flu season is coming and it is more important than ever to take steps to prevent the spread, including vaccination.
Because of the continued spread of COVID-19, the upcoming flu season poses unique risks to our communities:
Individuals could catch both illnesses
COVID-19 and influenza are both highly contagious upper respiratory illnesses. We know flu spreads largely through droplets from infected persons coughing, talking, or sneezing. It is thought that COVID-19 spreads the same way. Any illness lowers weakens the patient's immune system, so infection with one could increase your risk for infection with the other.
Testing may become more difficult
Illness from SARS-CoV-2 can have many of the same symptoms as illness from the flu. This means, as generalized illness spreads during flu season, more tests will be necessary. Testing materials for COVID-19 have been limited throughout the pandemic – and with similar materials needed for both tests – flu season could limit testing availability even further.
Hospitals and healthcare systems may become overwhelmed
As cases of flu increase they will inevitably overlap with COVID-19 cases. An influx of either illness could strain hospital capacity as more individuals become seriously ill and require hospitalization.
Prevention
Now for the good news: we can all take measures to protect ourselves and each other from the flu this season. Many of these are the same measures we take to avoid COVID-19, including frequent hand washing or sanitizing, wearing a mask, and staying home when sick. But we have one major tool to fight the flu that doesn't yet exist for COVID-19, and that is a vaccine.
Vaccines work by priming the immune system to fight certain disease-causing pathogens. Your immune system will generally produce illness-fighting immune proteins called antibodies about two weeks after exposure to the virus. Because a vaccine's protection takes time to become effective, it is beneficial to get your flu shot early in the season. The Centers for Disease Control and Prevention (CDC) recommends getting vaccinated by the end of October.
What are the benefits of flu vaccination?
A flu vaccine is made to protect against a few different flu viruses that research suggests will be most common. Because influenza viruses can vary from season to season, the vaccines developed may not be a perfect "match" to the most common viruses. When the vaccine is well matched to the season's viruses, vaccination can reduce the risk of having to visit the doctor because of flu by 40 to 60 percent, according to the CDC.  
However, even if a vaccinated person does catch flu, they are less likely to have severe illness and may recover faster than if they hadn't been vaccinated.
A 2017 study showed that flu vaccination reduced deaths, intensive care unit (ICU) admissions, ICU length of stay, and overall duration of hospitalization among hospitalized flu patients.
During a pandemic, that reduction in hospital admissions and length of stay is vital.
Where can I get a flu shot?
Many pharmacies, both locally and nationwide offer flu shots, and most insurance plans cover some type of flu vaccination. KRMC's Community Pharmacy offers flu shots to people three years old and above with no appointment necessary.
KRMC's Community Pharmacy gives flu shots at no cost to the patient. If a patient has insurance, KRMC will bill insurance for the vaccination. KRMC will cover the cost for uninsured patients to get vaccinated.
Visit the KRMC Community Pharmacy at 1739 Beverly Avenue, Suite 106.
Hours of operation:
Monday – Friday: 8 a.m. – 8 p.m.
Weekends & Holidays: 9 a.m. – 5 p.m.