Kingman Regional Medical Center (KRMC) was awarded an 'A' today when the Leapfrog Group announced their fall 2019 Hospital Safety Grade. The designation recognizes KRMC's efforts in protecting patients from harm and providing safer healthcare.
The Leapfrog Group is a national nonprofit organization committed to improving healthcare quality and safety. It assigns safety grades to hospitals across the nation twice annually in the spring and fall.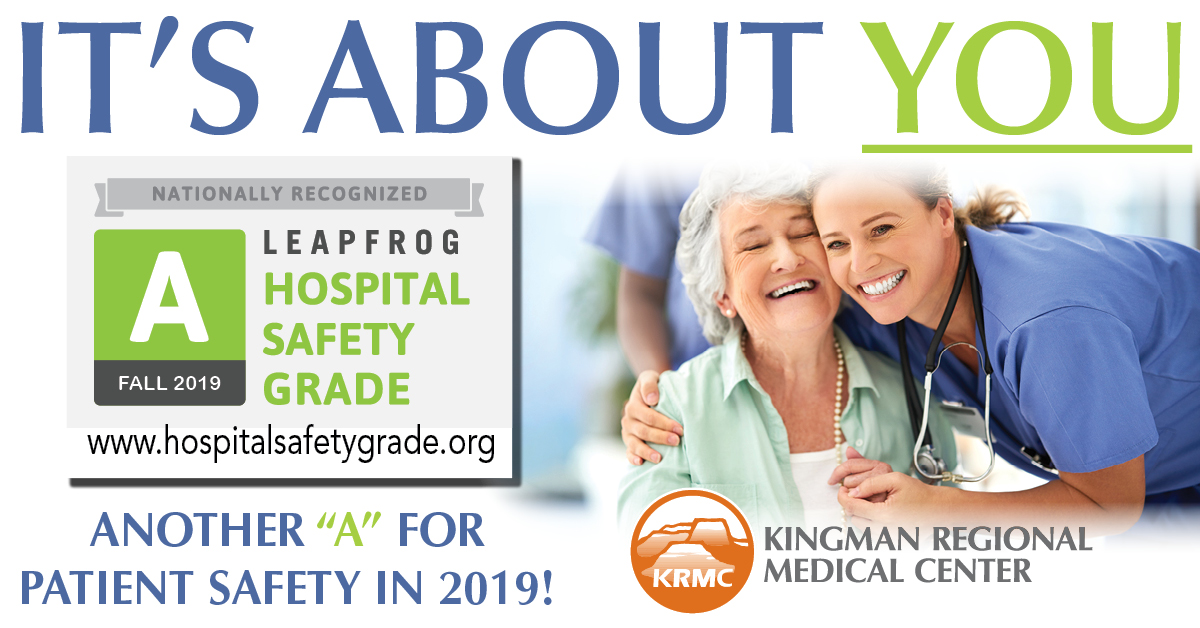 This grade marks KRMC's second 'A' rating this year – the first was awarded with Leapfrog's spring announcement in May.
KRMC CEO Brian Turney previously challenged KRMC leaders to focus more closely on patient safety. Today, he is pleased with the results.
"I appreciate our management, clinical providers, and staff who have accepted my challenge to provide care with patient safety foremost in their minds," said Turney.
"Achieving another 'A' from Leapfrog demonstrates their dedication to those efforts, and I know they will continue to uphold the standards they have set for patient care at KRMC."
The Leapfrog safety grade has become a gold standard measure of patient safety. Developed under the guidance of a national panel of experts, the Leapfrog Hospital Safety Grade uses 28 measures of publicly available hospital safety data to assign grades to more than 2,600 U.S. acute-care hospitals twice per year.
The Hospital Safety Grade's methodology is peer-reviewed and fully transparent, and the results are free to the public.
To see KRMC's full grade details, and to access patient tips for staying safe in the hospital, visit hospitalsafetygrade.org and follow the Leapfrog Group on Twitter and Facebook.