Sandra I. Rubio, MD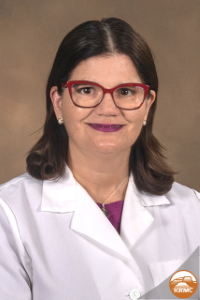 Specialties
Endocrinology/Diabetes/Metabol
Office Location
KRMC Endocrinology
3801 Santa Rosa Dr Ste 302
Kingman, AZ 86401-2311
Contact
About Me
As an endocrinologist, Dr. Sandra Rubio diagnoses and treats disorders of the endocrine system, including diabetes, thyroid conditions, glandular conditions and metabolic diseases. Dr. Rubio is board-certified by the American Board of Internal Medicine in internal medicine and in endocrinology, diabetes, and metabolism. She has over 25 years of experience providing treatment and management for endocrine disorders.
Dr. Rubio attended Ponce School of Medicine in Puerto Rico. She then completed an internship and residency in internal medicine at Cabrini Medical Center in New York City. To further develop her specialty, she completed a fellowship in endocrinology and metabolism at St. Vincent's Hospital and Medical Center in New York City.
Dr. Rubio is passionate about the care she provides and hopes that passion will extend to her patients. "I want my patients to be informed and involved in their medical management decisions. To me, it's a partnership," says Dr. Rubio.
Dr. Rubio joined KRMC to meet a need for specialized medical care in a rural community.
Medical School: Ponce School of Medicine – Ponce, Puerto Rico
Residency: Cabrini Medical Center – New York, New York (Internal Medicine)
Fellowship: St. Vincent's Hospital and Medical Center – New York, New York (Endocrinology, Diabetes, and Metabolism, Internal Medicine)