The Kingman Regional Medical Center Foundation is pleased to present the 4th annual Black Tie Gala.
March 18th, 2023
The Kingman Regional Medical Center Foundation announces the return of its Black-Tie Gala!
 
Proceeds from this year's event will benefit the WL Nugent Cancer Center and its community cancer screening efforts. Mohave County has one of the highest rates of cancer in the state, and many patients go undiagnosed until their disease has progressed significantly. While approximately 5,000 patients in the area meet criteria for low-dose CT lung screenings, only about 100 are screened annually. Screening more of this at-risk population would result in earlier diagnoses – potentially saving lives.
 
The Black-Tie Gala will take place on Saturday, March 18, 2023, at the Aquarius Casino Resort in Laughlin, Nevada, beginning at 5:30 pm.
This black-tie formal event will include: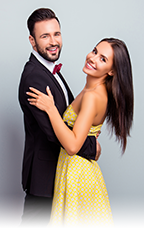 Three-course dinner
Dancing
Refreshments
Photobooth
Fabulous entertainment
Tickets are priced at $100 per person. To ensure the quality of this event, we will limit the number of available tickets.

We expect a fantastic turnout for the party and sincerely hope that you will attend. Please join the Foundation in seeing that this event meets its potential to positively impact our community.
Additional features
The Board of Kingman Regional Medical Center's Foundation is proud to feature prize items donated and sponsored by generous companies and members of our community. Fundraising activities will include the following:
Wine wall – An assortment of mystery wines ranging in value from $20-$75 a bottle. Get a bottle for $20 per pull.
Raffles – A collection of individual items, including gift cards and trip vouchers, as well as baskets assembled with items from our generous donors.
Silent auction – Your chance to win high-end items including sports and music memorabilia.

If you have any further questions, please contact Ben McGlothlin at (928) 263-3873.