Yusria R. Malik, MD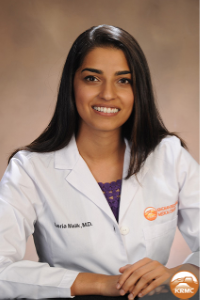 Office Location
Kingman OB/GYN Associates
1739 E Beverly Ave Ste 200
Kingman, AZ 86409-3593
Contact
About Me
Dr. Malik is a board-certified OBGYN who specializes in the full spectrum of women's health care. She particularly enjoys providing care for gynecologic concerns that can arise starting at puberty, through the natural changes in a woman's fertile years and the transition to and through menopause.
She performs surgeries such as minimally invasive hysterectomy, repair of pelvic organ prolapse, tubal sterilization, and removal of fibroids and ovarian cysts. She also provides obstetric care for vaginal deliveries and cesarean sections if indicated.
Dr. Malik encourages her patients to take charge of their own health and teaches them empowering health practices. She offers guidance on birth control, women's optimal nutrition in the setting of PCOS and inflammatory disorders, and peri-menopausal hormone replacement.
Training
Post-graduate education: Certificate in Nutrition and Healthy Living – Cornell University, online program
Residency: Obstetrics/Gynecology – University of Nevada Reno School of Medicine
Medical degree: MD - University of Nevada Reno School of Medicine
Master's degree: MPH - University of Nevada Las Vegas
Languages spoken: English, Spanish, Urdu/Hindi