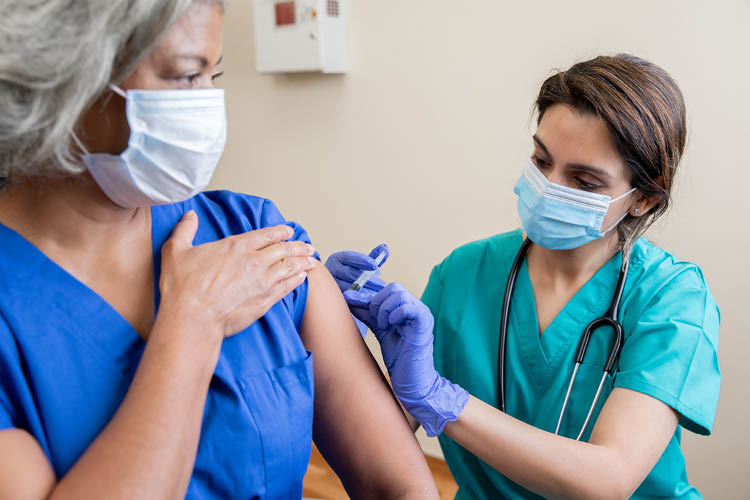 February 3, 2021
More than a year after the first confirmed case in the U.S., COVID-19 has killed over 400,000 Americans. In recent months, certain populations have begun receiving vaccines to protect against the disease. 
For many, this prospect offers hope. A vaccine can protect its recipient from severe illness, ideally preventing hospitalization and even death. This is vital for people with the highest risk, including elderly and immunocompromised people, health care workers, and many other service workers.
While the standard process for vaccine development can take years, scientists have worked hard to expedite the development of many potential vaccines for SARS-CoV-2, the virus that causes COVID-19. 
Currently, only two vaccines have been granted Emergency Use Authorization (EUA) from the U.S. Food and Drug Administration (FDA), while many others are in various phases of testing and trials. 
It is understandable to have questions – even reservations – about these new vaccines. Fortunately, a wealth of information is available about their safety and efficacy. 
Here's what we know about the COVID-19 vaccines:  
What vaccines are available?
Right now, two vaccines have Emergency Use Authorization from the FDA: one made by Pfizer-BioNTech, and one made by Moderna. 
Both vaccines use mRNA – or messenger RNA – and require two doses. Doses are given three weeks apart for Pfizer-BioNTech and four weeks apart for Moderna. 
While the Moderna vaccine is authorized for use in people 18 and older, the Pfizer-BioNTech vaccine can be given to people as young as 16. 
Are these vaccines safe?
Before the FDA approves any vaccine – or authorizes it for emergency use – clinical trials are conducted to test its safety and effectiveness. Vaccines for COVID-19 are subject to the same clinical trial process as every other vaccine.
Though the administrative process of approval normally takes longer, the FDA gave emergency use authorization (EUA), enabling these vaccines to be distributed throughout the country.
Once the vaccines are authorized for use, safety monitoring continues. People who receive the vaccine are monitored for some time afterward in case a reaction occurs. Recipients should report any adverse effects – such as an allergic reaction – through the Vaccine Adverse Event Reporting System. They can also register to use the CDC's online vaccine health checker, v-safe. 
Some commonly reported side effects for both vaccines include:
•    Pain and/or swelling in the arm where you got the shot
•    Muscle aches
•    Headache 
•    Fatigue 
•    Fever
Any side effects typically resolve within a few days.
How do the vaccines work?
While other types of vaccines may use a dead or weakened pathogen (a disease-causing germ) to prompt a response from the immune system, these vaccines use mRNA (messenger RNA). mRNA is a genetic material that instructs our cells to make certain proteins. Here, they instruct our cells to make a piece of what's known as the spike protein – a feature of the SARS-CoV-2 virus. This protruding protein enables the virus to infect human cells with ease. 
When your own cells can make the spike proteins, the immune system will more readily recognize them as invaders. This helps your immune cells create antibodies specifically to fight the spike proteins and fend off the SARS-CoV-2 virus. 
Because the mRNA never enters a cell's nucleus, it has no effect on the genetic makeup of the cell or the person who receives it. Once it does its job, the mRNA is destroyed and does not stay in the body.  
Are the vaccines effective?
In clinical trials, both vaccines showed over 90% efficacy: Moderna at 94.1% and Pfizer-BioNTech at 95%. This number is the percentage of patients who did not become ill in the vaccinated group versus an unvaccinated or placebo group. 
Both vaccines require two doses to reach maximum effectiveness. It is also important to note that optimum protection takes up to two weeks to build after the final dose. This gives your body time to activate a response. 
It is still unclear how long protection will last for those who receive COVID-19 vaccines. Booster shots may be required for continued immunity. As more people get the shots and time progresses, scientists will continue their research to better understand the duration of immunity. 
Who can get vaccinated?
Right now, vaccination is happening throughout Arizona in a phased approach as outlined by the Arizona Department of Health Services (AZDHS).
The plan has three phases, and Phase 1 has three tiers. Under Phase 1A, the first groups to be vaccinated include:
•    Healthcare workers and healthcare support occupations
•    Emergency medical services workers
•    Staff and residents of long-term care facilities
Those who will be eligible under Phase 1B include:
•    Education and childcare workers
•    Protective services occupations
•    Adults 75 and older 
•    Essential services/critical industry workers 
•    Adults with high-risk conditions in congregate settings
 For more information about vaccination in our community, see the Mohave County Department of Public Health.  
At this time, no vaccine for COVID-19 is approved for use in children under 16. 
What is herd immunity?
Once enough people in a community are vaccinated, that community benefits from a broader protection called herd immunity. Disease does not spread as readily among people who have some immunity to it. This limited spread can protect others who can't receive the vaccine themselves, such as people with compromised immune systems or those who are too young to be vaccinated.  
However, we are still a long way from herd immunity. Immunization is just one measure to take in defeating coronavirus. The best way to limit the spread is by using all measures available to us, including:
•    Wearing a face covering around others 
•    Social distancing
•    Frequent handwashing
•    Avoiding large or crowded groups of people
•    Staying home when you're sick 
In the past year, healthcare workers, infectious disease experts, and scientists have made significant gains in knowledge about how to best fight COVID-19. The extraordinary development and testing of these vaccines will surely save many lives as people continue to receive them.