PGY-1 Pharmacy Residency with Ambulatory Care Emphasis
Prepare for a Clinical Career
We invite you to consider your future at Kingman Regional Medical Center (KRMC) in Kingman, AZ. Here, you can successfully reach your clinical and professional skills, while also enjoying an exceptional quality-of-life in our nice climate, culture, and community.
KRMC provides a comprehensive range of advanced medical services in a very friendly environment, where our staff connects in common devotion to our patients and to each other.
The PGY-1 pharmacy residency at KRMC develops clinically competent pharmacy practitioners with the knowledge and experience to face current, complex health-care demands. Graduates will acquire leadership, teaching, and professional skills vital to success in today's various practice settings.
The residents will be involved in completing a teaching certificate, performing a research project, and participating in community outreach events such as presentations, health fairs, and a radio program appearance.
Pharmacy Mission Statement
The Department of Pharmacy supports Kingman Regional Medical Center by providing our community high quality pharmaceutical care that delivers the best clinical outcomes and patient services in an environment that promotes professionalism, respect and pride in performance.
---
About Us
A Learning Experience from Kingman Regional  Medical Center
Kingman Regional Medical Center is the largest healthcare provider and the only remaining not-for-profit hospital in Mohave County, Arizona. KRMC fosters an environment in which our employees can fulfill our mission to "serve our community with compassion and commitment."
As a 235-bed multi-campus healthcare system, our medical center includes more than 1,900 employees, 190 physicians/allied health professionals, and 150 volunteers. Kingman Regional Medical Center serves an area population of about 70,000, with a draw area of 200,000.
KRMC is recognized as an innovator in rural healthcare. We provide a full-continuum of highly-technical and specialized medical services to meet the healthcare needs of our community.
We continually invest in state-of-the-art technologies, facilities, and skilled expertise to provide:
Essential primary and preventative care
Sophisticated medical imaging and diagnostic capabilities
Highly-proficient acute care
Cutting-edge surgical technologies and techniques
Advanced treatments in cardiac care, wound care, and cancer care
Progressive rehabilitation and pain management therapies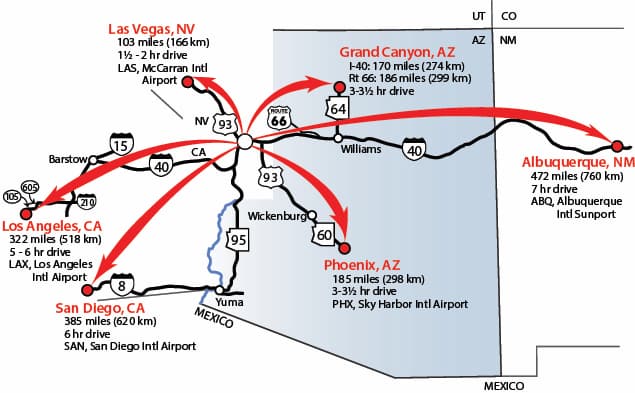 Kingman represents classic small town America, with friendly people and community-oriented activities that bring us together as neighbors and friends. Our town was initially established through cattle ranching, railroading, and mining. The world-famous Route 66 runs through Kingman, bringing with it the allure of the open road.
Additionally, Kingman is proximal to several travel destinations and major metropolitan areas, including Las Vegas, Phoenix, and Southern California.
Kingman is a place where you can get involved and make a difference. Our strongest asset is the community spirit of our residents. Many local individuals and community groups have deep commitment to making our town a place to learn, grow, and thrive. Their energy and dedication are powerful factors for enhancing health and quality-of-life in our community.
---
Meet Our Leadership Team
Bruce Latimer, BSPharm, MBA
Director of Pharmacy Services
Anthonia Ajao, PharmD
Clinical Manager – Acute Care
PGY-1 Residency Program Director
Patrick Lord, PharmD
Operational Manager
Linda Williams, PharmD, BCACP
Clinical Manager – Ambulatory Care
PGY-1 Residency Program Coordinator
---
Rotations Offered
PGY-1 Ambulatory Care Focus
Required Rotations (6 weeks each)
Orientation
Infectious Diseases/Antimicrobial Stewardship
Practice Management/Administration –Ambulatory Care
Ambulatory Care I
Ambulatory Care II
Internal medicine I
Choices of Two Elective Rotations (6 weeks each)
Hematology/Oncology
Informatics/Information systems
Practice management/administration – Health systems
Longitudinal Rotations
Research and Publication (with seminar CE presentation)
Teaching and Outreach (with teaching certificate)
Advanced Pharmacy Practice (staffing)
Anticoagulation Management
---
How to Apply
Applicant Requirements
Applications will be accepted online using PhORCAS. KRMC utilizes National Matching Services, therefore each applicant must be registered for the match. The first phase of the interviews will include a video conference and selected candidates will be invited for an on-site interview.
Application requirements:
Letter of intent
Current curriculum vitae
Most recent College of Pharmacy and/or Graduate School transcripts
Three letters of reference from prior employers and/or educators
US citizenship or employment authorization
All application materials must be received by January 2nd. Candidates will be contacted for interviews by the beginning of February.
National Matching Service Code with PGY-1 Ambulatory Care Emphasis: 243521
---
Contact Us
Anthonia Ajao, Pharm.D.
Residency Program Director
Kingman Regional Medical Center
3269 Stockton Hill Rd Kingman, AZ 86409
Phone: (928) 263-3665
Email: Anthonia.Ajao@azkrmc.com